SiteLink Merchant Services
Credit Card Processing, ACH/EFT Bank Draft & Online Payments
SiteLink Merchant Services integrates with SiteLink to lower credit card fees and reconcile statements. While you have a choice in providers, our payment offerings are a natural fit. Even better, our OneSupport team services all of our products.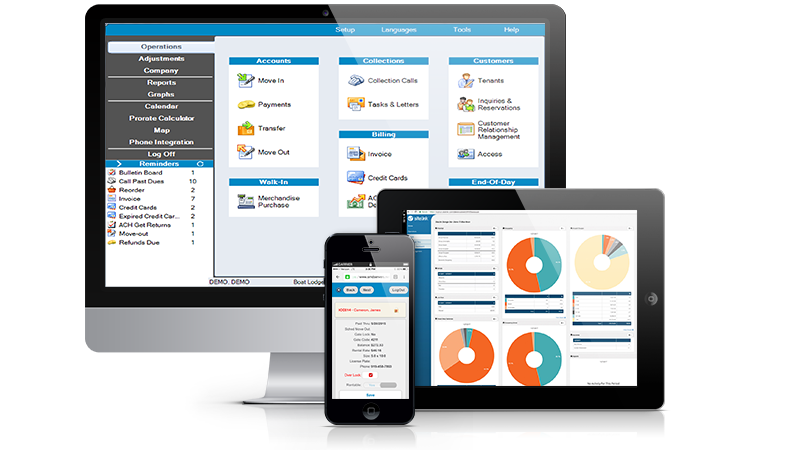 SiteLink Merchant Services Overview
SiteLink Merchant Services seamlessly integrates payments in SiteLink. A single-source software and payment processing package is a natural fit. SiteLink OneSupport gives you a single help line for reliable, accountable support. Payment processing integration lets you reduce errors, audit, auto-reconcile and get lower rates.
SiteLink OneSupport
SiteLink's Merchant Services and SiteLink Software work together to solve your payment needs. For the first time, you truly have one point of contact for technical support.
Data Security
SiteLink is fully PCI Level 1 certified. This is the highest level of security certification in the credit card industry. Yearly audits and penetration tests ensure SiteLink security is rock solid.
A Single Login
Manage your operations across multiple stores. Consolidate payments, reporting, and direct access to settlement information.
Online Payments
eCommerce is made easy with SiteLink Merchant Services website integration using the SiteLink API, Web Template or SiteLinkStore.
SiteLink Merchant Services Features
SiteLink Merchant Services offers the
tools you need to collect and manage payments.
OneSupport
We offer customer support for software, credit card processing and ACH/EFT bank drafts because they go together. SiteLink is the only company to service both management software and payment processing.
CardOptimizer
Verify credit card billing addresses using real-time AVS. Before you process a tenant's credit card, find out if the billing address is correct. Use SiteLink to find tenants with invalid or missing billing addresses to lower processing rates.
AutoRec
Reconciling and auditing credit card statements can be tedious, expensive and time consuming. SiteLink Merchant Services includes a powerful daily close report that reconciles SiteLink Web Edition transactions with the SiteLink Merchant Services virtual terminal.
Electronic Signature
Save money with electronically signed payment receipts.
PCI Rapid Comply
We work with you to become PCI compliant. Save money by eliminating PCI Non-Compliance fines when you sign up with SiteLink Merchant Services.
AutoPay
Automatically process credit cards and ACH/EFT bank drafts for tenants each month at the click of a button. Processing recurring payments has never been easier. With SiteLink, your tenants can sign up for auto-bill on your website.
©2023 – SiteLink Merchant Services, a dba of Sunstone Merchant Services, LLC is a registered ISO of Wells Fargo Bank, N.A., Concord, CA.