Business Intelligence
SiteLink Business Intelligence offers features and software programming support to help you make more timely decisions.
Contact SiteLink Sales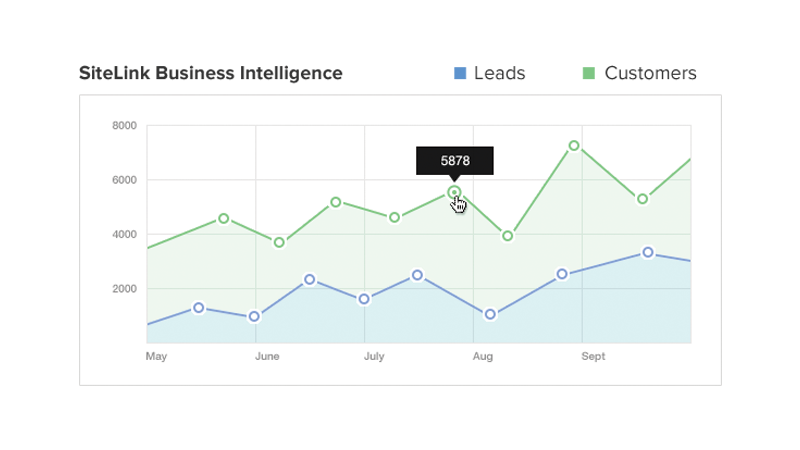 Business Intelligence
Use the built-in custom report writer or let SiteLink programmers create your company's custom reports or scripts. Batch print, email, process reports automatically and export to Excel, PDF and text formats. Single store and consolidated multi-store reports are only a click away. SiteLink Business Intelligence - data analytics at the right time. Always real-time.
SiteLink myHUB
Browser-Based Interface
As a companion to SiteLink Web Edition, use a tablet, smartphone, PC or Mac to take payments, move tenants in/out, transfer units, electronically sign and manage leases and documents, perform interactive walk-thru audits of your property and run real-time reports anytime, anywhere. What's more, it is snappy fast. There is no additional cost to use SiteLink myHub.
Learn More About SiteLink myHUB
SiteLink API
Third-Party Integrations
With your permission, the SiteLink API (application programming interface) gives third-party vendors access to your data. The API shares real-time details with websites, call centers and marketing systems like SpareFoot. The API was designed for quick and easy deployment by third-parties. Ask SiteLink Marketplace partners - they know SiteLink integrations offer the most features. We share more - like manager notes with call centers and SiteLink eSign and other tools to power rentals on your website. Thanks to the SiteLink API, our customers get the most out of partner services.
Audit Toolbox
Most management companies and top 100 operators use SiteLink. They understand the need for controls and monitoring to prevent theft. Financial reports must hold up against thorough audits. Operators small and large trust SiteLink for their audit needs.
Custom Reports
SiteLink understands that no single solution satisfies all needs. That's why SiteLink offers a full featured custom report module. Need help with a custom script or report? The SiteLink Business Intelligence team of programmers is ready to help.
TOTAL Accounting
SiteLink manages your financials and integrates with the accounting software of your choice. Track financials with confidence using cash or accrual basis methods. Manage ancillary items like merchandise, COGS, tenant insurance and other recurring charges. Connect with common accounting programs like QuickBooks, Great Plains, PeachTree, MRI, MAS 90, Yardi and others.
Anywhere, Anytime Access
Enjoy an unlimited number of installs, users, and locations. SiteLink's cloud based solution allows access to your data anytime, anywhere with internet access.